Eighth International Conference on Fundamentals and Industrial Applications of HIPIMS 2017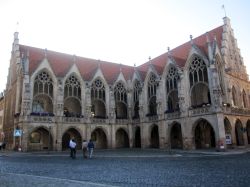 Following the success of the past seven International Conferences we are pleased to invite you to the Eighth edition of the International Conference on High Power Impulse Magnetron Sputtering (HIPIMS).
The conference aspires to:
Promote High Power Impulse Magnetron Sputtering (HIPIMS) as a novel technology for surface modification and coating deposition
Provide a scientific forum for discussion of the fundamentals of plasma science and exchange of ideas for new industrial applications of HIPIMS
Connect the academic research community with the industrial world to foster progress of plasma-based technologies.
The Braunschweig region boasts high-level research performed in a wide range of fields at the Technical University (more than 16,000 students), at the University of Applied Sciences (Fachhochschule), at the University of Art (Kunsthochschule, HBK), at 27 renowned institutions and at 250 companies. The Fraunhofer Institute for Surface Engineering and Thin Films IST is one of these institutions and specializes in application-oriented R&D in the fields of low and atmospheric pressure plasma treatment including surface modification and coating, in hot filament CVD and in wet-chemical plating. An important research focus at Fraunhofer IST for a number of years has been the HIPIMS technology which has been developed intensively in national and international cooperations of which the one with the co-organizer of this conference, Sheffield Hallam University, is an excellent and successful example.
Conference Announcement
13 June - 14 June 2017, Braunschweig, Germany
Venue: Civic Centre »Stadthalle Braunschweig»
Short Tutorial Courses
11th June - 12th June 2017
Register to attend